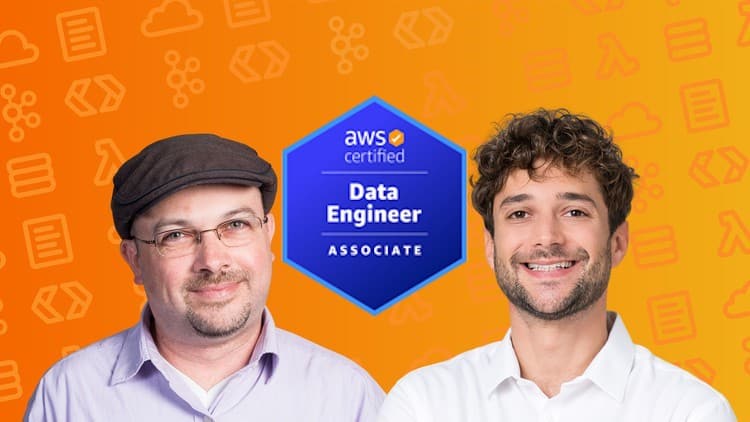 The AWS Certified Data Engineer Associate Exam is one of the most challenging associate-level certification exams you can take from Amazon, and even among the most challenging overall.
Passing it tells employers in no uncertain terms that your knowledge of data pipelines is wide and deep. But, even experienced technologists need to prepare heavily for this exam.
This course will set you up for success, by covering all of the data ingestion, transformation, and orchestration technologies on the exam and how they fit together.
Enroll today for just $9.99 and save with our launch sale!
For this course, I've teamed up with a fellow best-selling Udemy instructor, Stéphane Maarek to deliver the most comprehensive and hands-on prep course we've seen. Together, we've taught over 2 million people around the world.
This course combines Stéphane's depth on AWS with Frank's experience in wrangling massive data sets, gleaned during his 9-year career at Amazon itself.
Throughout the course, you'll have lots of opportunities to reinforce your learning with hands-on exercises and quizzes. We'll also arm you with some valuable test-taking tips and strategies along the way.
Although this is an associate-level exam, it is one of the more challenging ones. AWS recommends having a few years of both data engineering experience and AWS experience before tackling it. This exam is not intended for AWS beginners.
You want to go into the AWS Certified Data Engineer Associate Exam with confidence, and that's what this course delivers. Sign up today– we're excited to see you in the course…and ultimately to see you get your certification!
Enroll today for just $9.99! These special prices won't last long!
As always thank you for having me along on your learning journey.
– Frank Kane
CEO, Sundog Education